How do you condense an incredible experience in one post?
I'm not sure, but I'll give it a try.
My birthday present to myself was to buy Laurie Halse Anderson's newly released historical fiction novel,
Forge
. It's the second book in a trilogy for kids. My husband left work early so that my 14-year-old daughter and I could attend a presentation/book signing that Laurie was giving in Wellesley.
After overcoming various obstacles – slow traffic, trying to locate the bookstore while driving behind a large truck, driving past the bookstore and having to turn around at Wellesley College, my uptightness (though honestly, my poor daughter had to endure that more than me), arriving at the WRONG location, driving to the LIBRARY instead – we managed to make it with 10 minutes to spare (whew!).
Wellesley has a gorgeous library and the presentation was held in a beautiful, intimate room. When we arrived there were maybe 25 people present at the time and we sat in the front row – less than 10 ft. from the podium. As I waited I felt relief, excitement, and gratefulness all rolled up together. I enjoyed listening to 2 boys sitting behind me. "I'm here 'cause my teacher said I'd get extra credit if I came." The other boy replied, "My mother made me go." I smiled to myself thinking, "They are in for a real treat."
Although I felt like I might burst with excitement sitting there, fortunately I didn't have to wait long before Laurie was introduced. She started with a brief bio: how school was a struggle for her, how she sat in the back row because she was tall and shy, how she made "picture movies" in her head as she lay in bed trying to get to sleep, how 9th grade was difficult and she was often depressed, how she never planned to go to college and why/where she did, how she never dreamed of being an author and why she did, and about her love for history and historical fiction. She spoke about her first historical fiction book,
Chains
(which I'm currently reading) and its sequel, the newly released,
Forge
, and how she researches using primary sources for her factual information.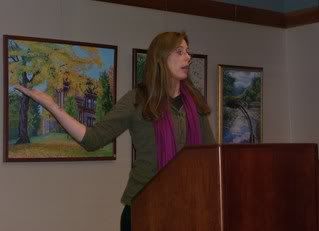 Laurie was warm, funny, passionate about her love of history and bringing that to kids through her writing - a dynamic speaker. I sat there grinning - savoring this special time. Then came the Q&A. I held back because there were quite a few kids with questions, mostly related to
Chains
and
Forge
. Then my daughter nudged me and whispered, "Go ahead," and I timidly raised my hand.
Moment #1 that I'll never forget:
With her full attention and eyes on me, I asked, "Are you currently working on a young adult contemporary novel?" She is. *big grin*
A couple of questions followed about her YA novels,
Speak
and
Wintergirls
, and then it was time for the signing. There were about 20 people in front of J and me. She brought her copy of
Speak
, I brought
Forge
. We were given a post-it to write our names on so Laurie would know the spelling ahead of time. Can I tell you how impressed I was with her? She took the time to speak to each child as she signed, asked if they had a question for her, and posed for pictures.
Moment #2 that I'll never forget:

Then we approached the table; it was our turn. My daughter went first, asked a question about
Speak
, and then posed for a pic. Then she took my book and asked if I was a teacher. I swallowed and willed myself not to gush. I told her that I once taught but am now raising 4 kids of my own (she's a mom of 4 too), and that now I'm writing for teens and hoping to be published some day. She asked if I belong to
SCBWI
. I confessed that I had thought of joining but how I decided to wait until I finished a first draft to see if I was committed to writing. "You don't have to finish to join," she told me and that New England has a wonderful chapter. She then turned to J and said, "Make sure she signs up this weekend!" and wrote the link on my post-it. Grinning (and by this time a deep shade of red), I stood beside her and J took our pic. And then, because I knew this was my last moment with her, the gushing started. It went something like, "I admire you so much and thought it was great how the writing community backed you during the
Speak
controversy, it was an honor to meet you, thank you!"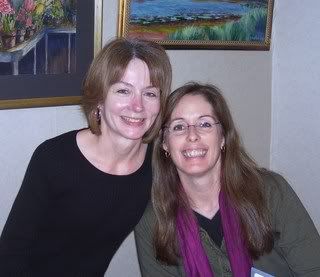 Moment #3
I'm not sure how I got to my car but I think I floated out of the library to the parking lot. When we got in the car, J and I read our dedications to each other. Sorry, I can't share it with you - it's powerful but very personal. And I tear up every time I read it.
Laurie is on tour right now for
Forge
. If you have the opportunity to hear her and meet her, I encourage you to do so.